Heading out to a party? Save the best of your toil to select designer sarees for the occasion because this is the time when they come out from the dark corners of the wardrobe. This is the time when you can rock the stage with your creative fashionista mind and can add stars to your appeal.
Every nitty gritty thing that matters such as your red hot heels or sheer adherence of designer sarees, a different type of drape and etc. can really provide a magical transformation to your final appeal. Crack the code with a little bit of humour as well. Here are the major fashionable tips that you should follow:
Heels Matter
Be it a low size heel, kitten heels, high pumps or heaven heels, there are multiple choices which you can carry to flaunt like a diva. If you are confused, then go blindly for stilettos and cone heels. These heels are available in vivacious prints and colour combinations. Where cone heels are narrow at the sole base and wider as it goes to the upper side, the heels of stilettos can reach upto 8 inches and can really make a dashing entry with sassy designer sarees.
Time For Hair-Do
The most important part of wearing a designer saree is its ultimate appeal. And hair-do is nothing less important than the fabric or design of the online sarees. Of course, it chisels your look into a more defined mannequin. Look perfect and confident all along by crafting a special hair do:
High Bun – It's is the perfect choice when you are opting for drapes because this hairstyle will give you space to concentrate on your saree as well as the clean and tall look.
Fish Tail Braid – Just like the little mermaids, this contemporary hairstyle is worth stealing for every event and show. This is called like this because of the left out portion of the braid that looks just like a fish tail.
Side Swept – For an effortless and confusion-less story, you can straight go with open hair and side swept.
Fabric Does Matter
It matters where you are going. Is it a formal party, casual party and evening or cocktail party? If it is a social or cultural gathering then nothing can beat the silk or traditional or handloom fabrics. Choose a lightweight yet a gorgeous saree for the event because just remember that you have to wear it for the whole day. Go with lightweight, comfortable and breezy georgette, crepe or art silk sarees for the light heart event. Opt for Chanderis, Maheshwaris and Banarasis to get the sizzle of gold zari and plash of being sophisticated.
Sheer For The Time Being
Sheer is the ultimate love of fairer sex around the globe. These are the looks which create a stir when worn by any kind of lady. And do you know the reason? Well, a little hide and seek, peek-a-boo is all that a woman wants from its partner and here saree is providing the best company. You must also take this style into consideration because sheer is the quality that is taken as the epitome of beauty. The delicate net work with charming embroidery work patterns is needed to be handled with great caution. Drape this type of sarees with a high bun, so that you can give the most of your attention to the delicacy you have wrapped.
Quirky Blouse Or Design Matters
The most important part of any saree avatar is the blouse where you can go beyond the traditions and out of the line. Of course, there is the best thing you can enjoy with saree and that is immense freedom and delight of bragging curves. Let's talk about the most trending designs which you can try in the upcoming event:
Halter Blouse – a great look to flaunt your toned arms and shoulders
Spaghetti Strap Blouse – flaunt what you have; wear them with cotton sarees or silk one to feel the magic
Quirky Printed Blouse – a contemporary way to cherish the creative side of yours
Tube Style Blouse – go to a little bolder side with tube style sarees
Shirt Style Blouse – get the most effortless match to your attitude and personality with cotton or khadi sarees and georgette plain solid shirt style blouses
Cape Style Blouse – a steal worthy style to capture with specific type of fabric of sarees
Try Next Gen Drape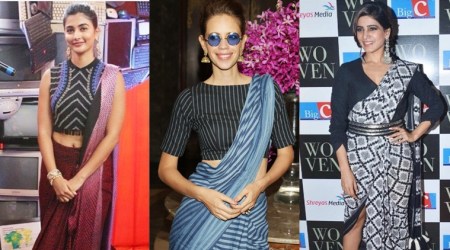 You are wearing saree and you are not exploring the best part of it!? This is not fair!
Try different types of saree drape styles to give your every appearance a hit among the other fashion enthusiasts. Here are some of the major draping styles which are admired by the modern women:
Mermaid Style – it showcases a flare at the bottom of the saree drape
Pant style – instead of a traditional petticoat skirt, pants are used to hold the weight and structure of the saree
Double Saree Style – two sarees are used to drape around the body and a great pick for lean or slim girls
Dhoti style – instead of a traditional petticoat, be the stunner with a dhoti style number